Oct 31, 2021 01:41 PM Central
Heather Henderson

Essential oils for dogs: Pawsome tips for your furry friend
Man's best friend. Doggo. Pupper. Colonel Princess Fluffernugget. Whatever you call your canine companion, your dog is an important member of the family. It makes total sense that you'd want to share your favorite essential oils with your four-legged friend.
How do I apply essential oils to my dog? Is diffusing oils safe for dogs? What essential oils are good for dogs' itchy skin? What essential oils can I use with my dog? If these questions sound familiar, you're barking up the right tree!
Grab your furry BFF and get comfy—we're about to share the ultimate guide on essential oils for dogs.


How do I apply essential oils to my dog?
First and most important: Dogs are highly sensitive to essential oils. What smells like the faintest hint of Lavender to you might smell like 100 acres of lavender botanicals to little Beethoven. Gradually introduce oils by using them on yourself first. Acting as a human diffuser keeps all those new scents from overpowering your pup.
If you're the proud owner of a new puppy, patience is a virtue. Fur reals. Avoid using topical oils on newborn dogs. For medium- or large-breed puppies, wait until they're over 8 weeks old. For toy or small-breed puppies, wait until they are over 10 weeks old.
Once you start applying essential oils, pay close attention to Lulu's behavior. Remember, she wants to be near you and will stay by your side even if she's feeling uncomfortable. Contrary to popular animated films, pets can't tell us if something is working or not. Please exercise caution—use oils on that loveable lapdog safely and responsibly.


Should I consult a vet?
YES. Note the caps—we're super serious about this one. If your dog is pregnant, nursing, or has a medical condition, consult a vet knowledgeable in essential oils prior to use. The following are general recommendations for use. If your pet has a known health issue, please consult your veterinarian before administering essential oils. If your vet suggests other usages, defer to those recommendations. Even if your dog is healthy as a horse, please consult a vet to ensure that there aren't any underlying issues.
Topical application:
When you're ready to give Teddy some essential oil TLC, topical application is the way to go. But before you apply, dilute those drops! And remember size matters. Dilute 1 drop of essential oil to 4 drops of V-6™ for small to medium dogs; 1 drop of oil to 3 drops V-6 for large dogs.
Speaking of dilution, did you know that our Animal Scents® oils come prediluted? Even though they're not as potent, you'll want to ease into using them by adding 1 drop of the Animal Scents oil to 1 drop of carrier oil. If your dog tolerates it well, you can try it without diluting it.
When you're ready to give it a try, rub the oil and carrier oil between your palms until your hands are no longer shiny. Rub over your pet's back, on the belly, and behind the ears. Take extra care to avoid the eyes!
Here are a few more ideas for topical application: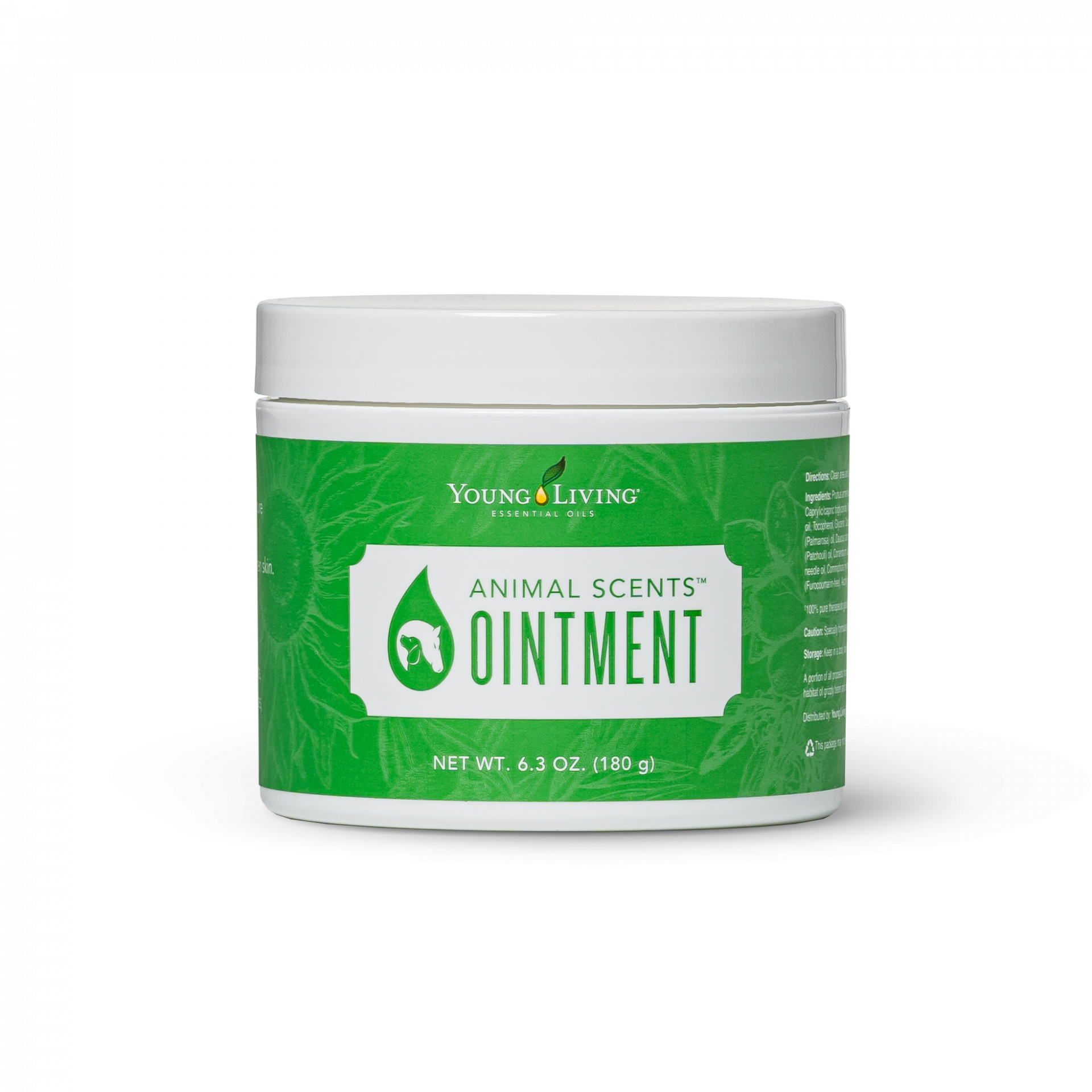 Is diffusing safe for dogs?
Yes! You'll want to diffuse in small doses—small amounts of oil for shorter periods of time—to help your darling Daisy get used to the scent. Again, pay close attention to how your dog acts with the new aroma. If she seems uncomfortable, use fewer drops or do away with the diffusing entirely.


What essential oils can I use with my dog?
Animal lovers, rejoice! We created Young Living's Animal Scents line with your pets in mind. The oils in this collection are prediluted and formulated without synthetic perfumes, dyes, and artificial colors and fragrances. Because they're paws-itively perfect, you can feel confident using them on and around your animal sidekicks.
You can also feel all kinds of warm fuzzies when using Animal Scents products on your fluffy friends. A portion of the proceeds from the line supports Vital Ground, a nonprofit dedicated to protecting the habitat of grizzly bears and other wide-roaming wildlife.
PuriClean
PuriClean™ is the first step in our three-part system: PuriClean, Infect Away™, and Mendwell™. PuriClean starts off the system with an impressive list of pet-lovin' benefits:
Soothes and moisturizes dry, flaky, irritated skin
Helps clean minor scrapes and scratches
Promotes feelings of health and wellness with its warm, comforting aroma
Refreshes and prepares the skin for the next step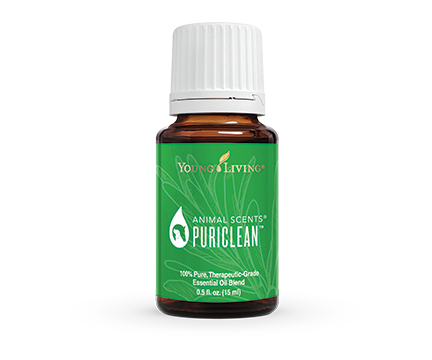 Infect Away
Infect Away is the second stage in our three-part system and offers just as many perks for your pet as PuriClean and Mendwell. Here's what you and your pupper will find behind this bottle's bright green label:
Healthy recovery from minor scrapes and scratches
Support for your pet's natural defense system
Protection against harmful contaminants
Prep for the final step of our terrific trio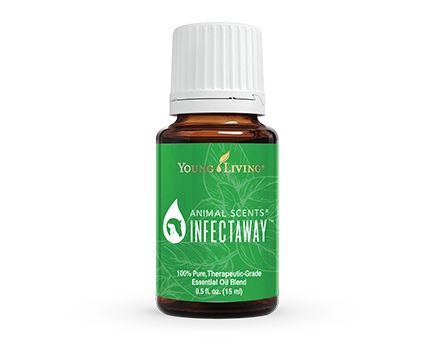 Mendwell
Mendwell wraps up our three-part system. Use it after PuriClean and Infect Away for a trifecta that packs a powerful pooch!
PUNCH. We meant punch.
Here are the perks you'll find inside every drop of this essential oil blend:
Soothes and moisturizes dry, sensitive, distressed skin and improves the appearance of healthy-looking coats
Creates an uplifting environment with its inspiring aroma
Aids in healing minor scrapes and scratches as part of the three-part system
Contains powerful essential oils that support your pet's natural healing process
YL tip: When Roxy's had a ruff day, try this DIY paw balm. Made with the oils from our three-part system, it's sure to keep you buddies fur life!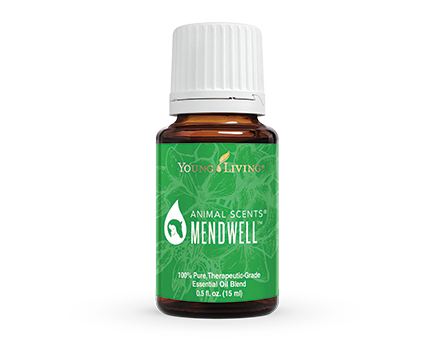 ParaGize
Love the smell of Peppermint but prefer something super safe for your pet? Try ParaGize™! This essential oil blend:
Supports your pet's natural cleansing system
Offers a calms and quieting blend you can gently massage on your pet's belly
Helps release feelings of discomfort when diffused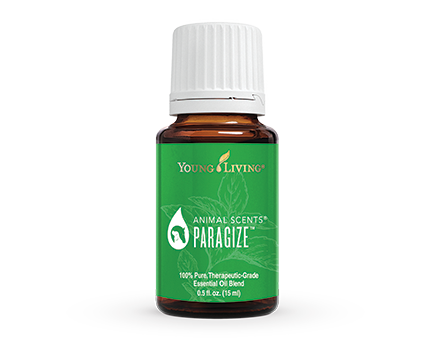 T-Away
T-Away™ is one of our most popular essential oils for pets, thanks to a combination of Trauma Life™, Harmony™, and Peace & Calming™ essential oil blends. The citrusy, slightly spicy scent supports a new level of emotional freedom and joy in pets, making it ideal for shelters and rescues. It also:
Promotes a calming and peaceful environment
Encourages relaxation and emotional balance
Supports pets during times of emotional stress, anxiety, and trauma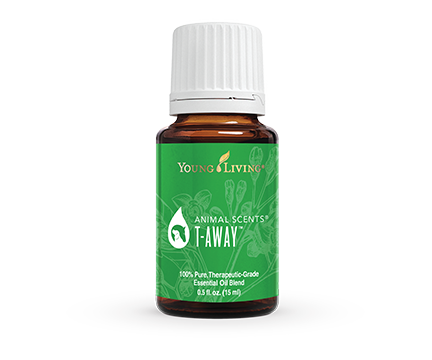 Are any other essential oils Fido friendly?
Feel like trying something outside the Animal Scents line? The following list of essential oils are safe for your pet.* After ensuring your mini Marley is acclimated to these oils, dilute as needed, rub into your hands, and gently massage into your dog's fur. Rub her back and belly and scratch behind the ears.
You should prepare yourself for an extra dose of doggy kisses. All that attention's gonna get you a whole lot of extra love!
YL tip: Sometimes Max will miss the mark—literally. When your good ol' boy makes a good ol' mistake, try this DIY pet stain and odor remover. It'll have you and Max odor-free couch cuddling in no time!


Which essential oils should you be extra careful using on dogs?
Dogs seem to be sensitive to the high levels and/or combination of certain constituents in the following oils, so we highly caution their use. Dilute these oils heavily and watch your dog for a reaction (please note they are safe but can be warm- Low and Slow is your best friend when you start oiling up your BFF):
Camphor
Cassia
Clove
Mountain Savory
Oregano
Peppermint
Thyme
Wintergreen
My note to the above from the YL Blog : Many of the above are in the raindrop. We LOVE raindrop (see triggers blog) for our animals.....start w the "hand dilution" method and use your V6 to allow for slower absorption. Msg me for more details.