Essential Oils in a shelter
(click pic for blog)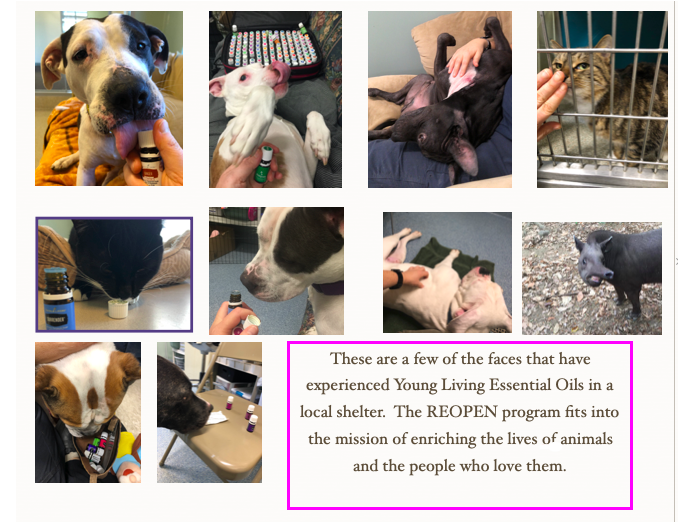 Emotional Support Tools for Staff and Animals.
Assisting shelters, rescues, and other animal-based businesses are always the goal. My program incorporates Young Living Essential Oils' power as emotional support tools and brings much-needed funding to rescues/shelters. The power of essential oils in the animal community can open up so many lives in so many ways. Plants can help animals and caregivers' emotional needs, thus strengthening new beginnings. Exciting things can happen.
This program started as a way to give back and is now helping both animals and caretakers. After a short time, I noticed we needed a way to help with everyday stress in shelter environments. Stress symptoms can affect your body, thoughts and feelings, and behavior. Young Living Essential Oils can help with these feelings and behaviors. The best part is its universal use for all species. We provide simple tools for all who wanted to try them.
The stories are endless and the results were real. Spending time with a few dogs each week often improved their behaviors and gave them much-needed calm to their day. Not every dog loved the essential oils and not every dog liked the same blends. There is no exact formula to what helps a dog on any certain day. Staff, volunteers, and dogs had some favorites like
Peace and Calming
followed by
Valor
. Great support for the nervous, scared, and timid dogs. While calming the nerves of the staff, all at the same time.
The Story of one White Bulldog named Nash
I had noticed this white bulldog that was never happy to see me walk by. I would give my best "HI BABY" and I got the bark/growl/go away/barrier reactive reaction time after time. While doing holiday pictures, someone said to go get "Nash". I said, "NOPE, he wants to eat me". So another volunteer went and got him and brought him upstairs to the photographer. He was all wiggly and happy to see everyone but I stayed away. After he was done, we were introduced and he sniffed the oils on me and started to wiggle and lean on me. It seemed as though we had just become best friends.
The following week, I headed straight for his kennel to see his reaction. I did the "hi baby" and he just looked at me. I bent down and offered my hand with Valor on it. He sniffed, looked up, wiggled, and backed up as I opened the kennel. He then sat and let me leash him up and just walked out of his run and out the door we went. Once outside he just leaned, wiggled, and kept sniffing me. I was so happy that we were friends. Every week this continued and we spent about an hour together and he let me oil him up, brush his little face, and gave him massages. Nash finally found his forever human and I couldn't have been happier for him.
Watch as Nash gets some
Young Living Orange Essential oil
. Orange is very happy and up-lifting. Watch how he turns and has me apply the oil to his body. You can tell he loves it and loves all the special attention.
So many stories to share.
Nash was just one of the many that enjoyed the use of essential oils. Brownie was another dog that we instantly saw the benefits of
Valor
. She was terrified to come to you to be leashed up. My first attempt to help her out was an epic fail.
I had help (from a friend) to toss her treats while I tried to loop her up. We actually decided to let her be and try again later. I went back in by myself and I put on
Valor
. I opened her door and knelt and let her smell me, she walked right up to me and let me leash her up. This was amazing to experience. I was so happy that she gave me a chance to help her gain her courage. Every experience is different but in the end, the dog tells you if you made the right decision.