Oct 31, 2021 02:14 PM Central
Heather Henderson

Elevate your space with DIY linen spray
Contrary to popular belief, you don't need trendy decor or expensive candles to create the right mood. And while a carefully crafted playlist can add to the ambiance, there's an even easier way to restore balance, wake up the wanderlust, or freshen your outlook: aromatherapy.
Aromatherapy is a mood master. The right scent can transport you to faraway places, help you relive magical moments, or boost your motivation. Set the mood—or cater to your current one—with a bottle of essential oil-infused DIY linen spray.
How to make DIY linen spray
Whether your state of mind calls for the soothing scent of Clary Sage or the heartening aroma of Royal Hawaiian Sandalwood™**, you can answer the call with a quick and easy DIY linen spray.
Ingredients
4 ounces distilled water
2 ounces witch hazel or rubbing alcohol
35-45 drops essential oil
Instructions
1. Put witch hazel or rubbing alcohol in a spray bottle.*
2. Add essential oils (see below for scent ideas).
3. Add water and shake well.
4. Lightly mist your linens.
*Because oil and water don't mix, witch hazel and rubbing alcohol act as emulsifiers to help the ingredients combine.
YL tip: Always shake your linen spray before using it to maximize the scent.
Question: Do essential oils stain?
Some oils have a naturally dark color due to their constituents. Check out our guide on which essential oils stain before spritzing with those scents.
To play it safe, go with these tried and tested linen spray recipes. The oils are diluted enough that they shouldn't stain your linens. We tested these sprays on clean, white tissues to ensure they didn't leave a trace of anything other than a lovely scent. We still recommend doing a spot test before using the sprays to make sure they won't discolor table runners and terrycloth towels.
Symmetry linen spray
When you're being pulled in a thousand directions and none of them feel like the right one, it's time to get grounded. Bring on a much-needed breather with the warm scents of Cedarwood, Frankincense, and Cinnamon Bark and the calming aromas of Northern Lights Black Spruce, Roman Chamomile, and Blue Tansy.
Spray this serene scent on your yoga mat, inside your car, on your bedding—wherever you plan to take your timeout.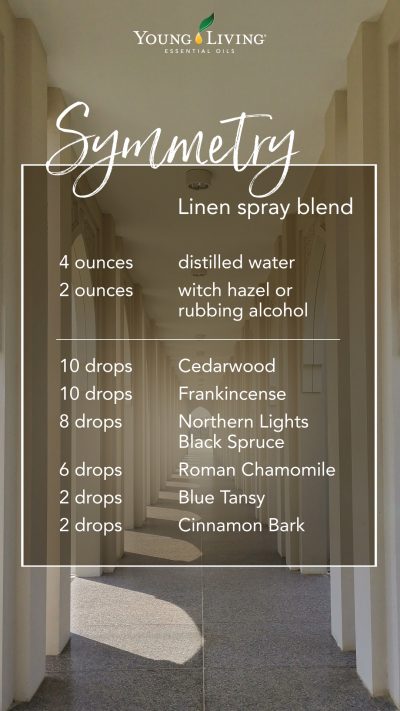 Seascape linen spray
Nothing soothes the soul like the feeling of sand between your toes and the sound of waves gently breaking on the shore. Experience that beach-life vibe in your home with crisp, clean scents of Bergamot, Eucalyptus Globulus, Lavender, Rosemary, and Spearmint.
Spray this coastal collection everywhere! The seaside smell is so divine you'll want it on your curtains, bedding, bathroom linens, and outdoor furniture.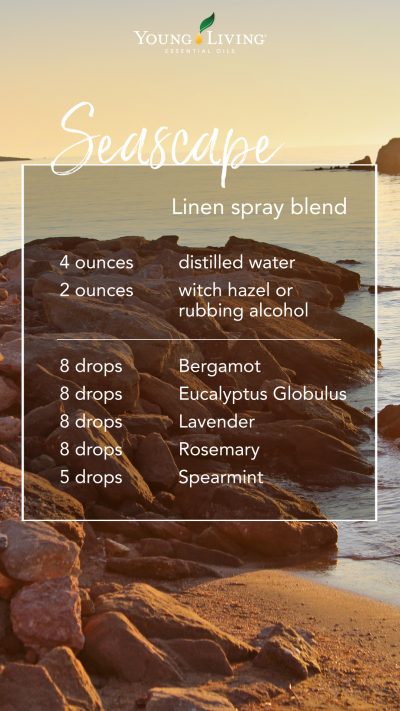 Repose linen spray
Sometimes you need a little extra help settling down before bedtime. Quiet today's tension and tomorrow's to-do list with the soft, soothing aromas of Clary Sage, Copaiba, Ylang Ylang, Orange, and Vetiver.
Spray this subtle solution on your pillowcases, bedspread, and little ones' bedding before drifting off to dreamland.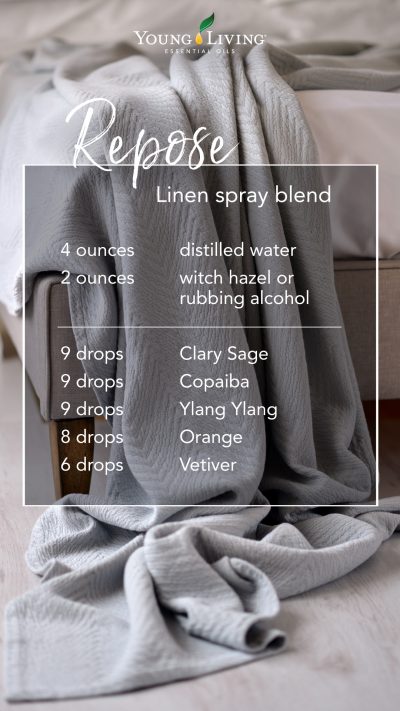 YL tip: Keep a bottle of Seedlings® Linen Spray on hand and use it to refresh crib sheets, car seats, and clothing with the calming aroma of Lavender oil, Bergamot oil, Ylang Ylang oil, and other essential oils.
Breeze linen spray
Whether it's a car full of sports gear or a guest room that's gone musty, this DIY linen spray will do the trick! The unique blend of essential oils—Citrus Fresh™, Eucalyptus Radiata, Kunzea, Tea Tree, and Wintergreen—quickly clears the air.
Spray this fantastic freshener on towels and guest beds, in musty closets and minivans—anywhere you need to clear the air.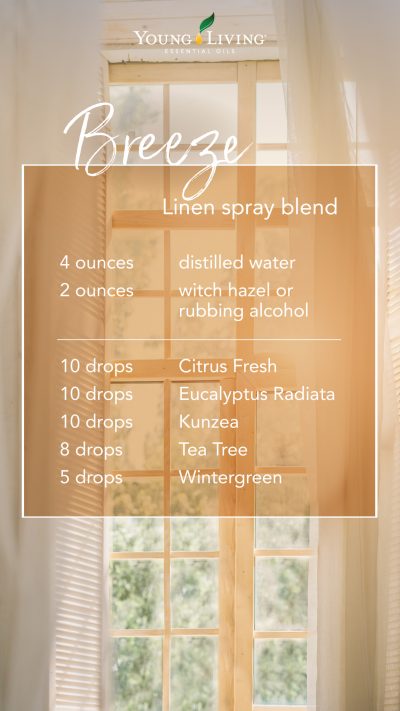 Ascent linen spray
Ready to take it to the next level? Boost your confidence and bump up the energy with the subtly floral, slightly sweet aromas of Royal Hawaiian Sandalwood, Tangerine, Elemi, Joy™, Lemon Myrtle, and Melissa.
Spray this motivating medley on your office chair, sofa, favorite blanket, or car seats when your mood could use a quick pick-me-up.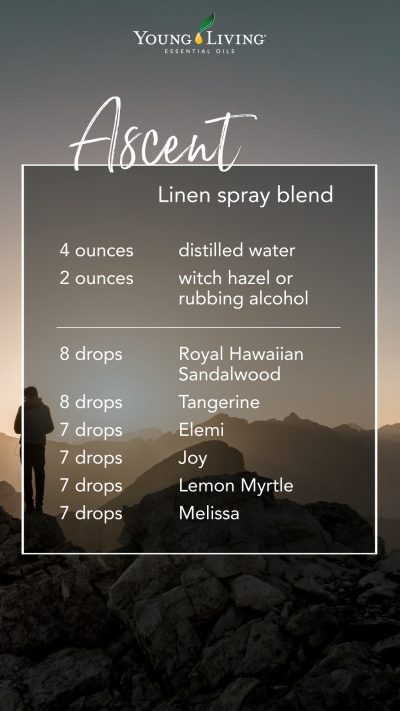 Sunrise linen spray
If we could put sunshine in a bottle, this blend would be it. Packed with citrus oils like Grapefruit, Lemon, and Lime and the lively, bright scents of Raven™, Black Pepper, and Geranium, this DIY linen spray is a sunlit orchard in every spritz.
Spray this inspiring aroma on your winter coat, decorative pillows, and throw blankets to enjoy a freshly picked scent no matter the season.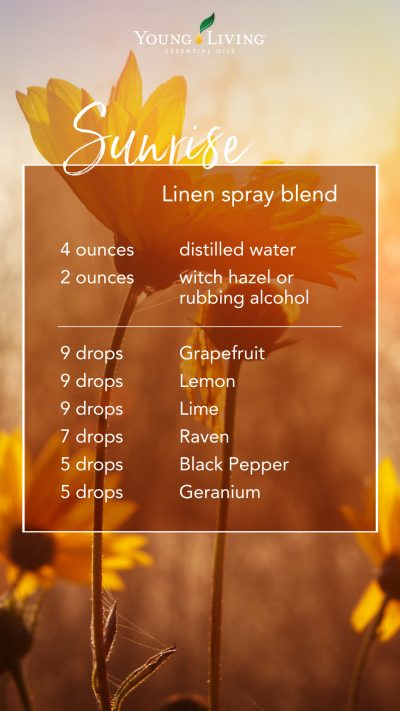 Wildwood linen spray
Need to escape reality for a spell? Let the warm, spicy scents of Coriander, Jasmine, Juniper, Lemon, and Sacred Sandalwood™ transport you to a mountainside cabin where you can breathe in rejuvenation and let go of expectations.
Spray this woodsy wonder on bedding, blankets, and furniture when life calls for something cozy.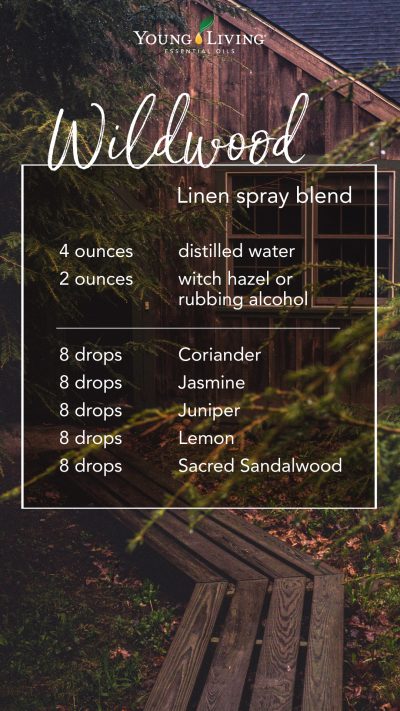 Need even more scentspiration? Try a bottle of Thieves® Household Cleaner. With one bottle, you can make 29 different DIY cleaners! If you discover an especially tough stain while tidying up, try this DIY stain remover packed with pure essential oils.
What oils do you love to put in your linen sprays?
Share with us in the comments!

Essential Oils and Pets: A Quick How-To
You love to share essential oils with your family, so it makes sense that you want to share them with your pets as well! Before you begin using essential oils for pets, you need to know the answers to some important questions: Can you use essential oils on dogs, cats, and other pets the same way you use them on yourself? How much should you use? What is the best way to administer oils for topical and internal use?
Check out our quick and easy how-to guide for tips and info that will answer your questions about the different types of essential oils for dogs, cats, and other animals!*
It is important to note that animals cannot tell us if something is working or not, so it is our duty to exercise due caution and approach using oils on animals safely and responsibly.
Please note that these are general recommendations for use. If your veterinarian suggests another usage, defer to your veterinarian. If your pet is pregnant, nursing, or has a medical condition, consult a veterinarian prior to use. (things I must say)
Basic Guidelines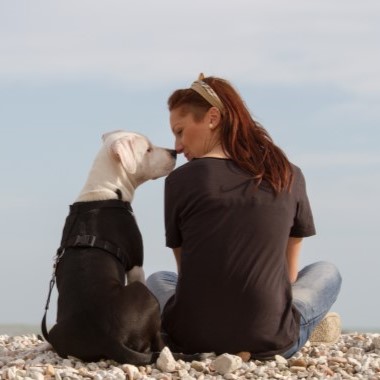 There are some general tips and suggestions you'll want to keep in mind as you share essential oils with your furry friends.
Animals are generally more sensitive to essential oils than humans are. It's best to go low and slow to start introducing YLEO to your animals.
Every animal is different, so carefully observe how your animal responds to essential oils. Use common sense and good judgment as you try different methods.
Be especially careful to not get essential oils in an animal's eyes.
If diffusing, always allow animals access to areas where they can avoid the diffused oil.
Apply one drop of YL essential oils to your hand and rub together. This is a form of dilution. You can then massage your animals with this very diluted drop.
Go Low and Slow. We only use Young Living Essential OIls. Do not mix with another brand or with essential oil based carriers. **this is VITALLY IMPORTANT**
Essential Oil Acclimation
Your pets may need some time to adjust to the new scents and sensations of essential oils. Use these tips to introduce your pets to essential oils in an easy and comfortable way.
Wear essential oils throughout the day, so your pets will be exposed to the aroma as you hold them, play, or cuddle on the couch.
Diffuse essential oils in spaces where your pets like to relax. Keep in mind that dogs tend to stay in a room with their owner even if something is bothering them. Closely watch for signs of irritation—such as whining, sniffing, nervousness, and excessive scratching—while diffusing around them.
When diffusing essential oils around cats, be sure to only diffuse in areas that allow the cat to leave if it doesn't want to be there.
Apply an essential oil to your hands and let your pets smell them, so they can explore the scent on their own terms.
If your pets are jittery or resistant to essential oils, try applying an oil to yourself and staying near the pets for several minutes, so they can get used to the aroma.

Dilution for Topical Application
Your animal's size affects the amount of oil you should use and how much you should dilute for topical application.
For cats, small dogs, and other smaller animals, use a carrier oil—such as V-6™ Vegetable Oil Complex—to dilute the essential oil before application. We suggest a 9:1 ratio of carrier oil to essential oil.
For medium-sized dogs dilute 4:1 carrier oil to essential oil.
If you're using essential oils on medium-sized animals—like large dogs—dilute 3:1 carrier oil to essential oil.
For very large animals—including horses and cattle—start with a 1:1 dilution on the back and, if desired, move to the directions indicated on the bottle.
Topical Use
Once your pets are used to essential oils, they'll better handle topical application. Keep these tips in mind as you experiment with using essential oils on your pets.
We recommend applying to the back for dogs and cats, being sure to rub your hands together until they are no longer shiny before rubbing the essential oil on the pet.
For animals with hooves, apply to the spine and flanks, avoiding the face. Apply oils to places that allow them to evaporate and breathe. Do not apply oils under any tack or saddles.
For an easy and comfortable application, rub oils between your own hands until they are no longer shiny and then apply by stroking the animal.
For easier application in large or hard-to-reach areas, combine essential oils with V-6 or water in a spray bottle.
Use Animal Scents® Ointment to soothe irritated skin or to help with the occasional scrape.
Internal Use
Animals can ingest essential oils, but you need to follow some general rules before you serve up an oil-infused meal for your pets.
We recommend consulting with a veterinarian prior to administering oils internally to your pets. You should not attempt to mix oils with food unless directed by a veterinarian.
If you choose to mix vitality essential oils with your pet's food, keep in mind that the smell may make the food undesirable to the pet; this is especially true for cats.
If you apply oils to places on their body they can lick, they will likely consume some of the essential oil as they groom and play. Make sure you dilute heavily, so the amount your pet licks is minimal.
Never force your pets to consume essential oils or food mixed with essential oils.
Always have FRESH water available (with NO oils in it)
Supplemental Products
Young Living also offers a full line of animal-specific products, including essential oil blends made just for animals, cat treats, dental pet chews, and Animal Scents® Shampoo.
Looking for even more ways to show your furry friends some love? Check out our DIY paw balm for more pro tips!
*If your pet or animal has a known health issue, please consult your veterinarian before administering essential oils.